Essence is coming out with a new collection called " Fruity"
Here is what Essence has to say about this collection.
cherry, apricot, kiwi – fruit, smoothies & co. are all the rage this spring and put us in the mood for a colorful summer. the new
Essence trend edition "fruity"
is fruity-fresh and creamy-seductive as it presents itself with a powerful cocktail of colors containing strawberries, bananas, kiwis, oranges and berries of the forest in
April 2012
. wonderful sorbet colors and gentle textures for your eyes, lips and face guarantee high spirits in springtime!
Eyeshadow sorbet
sorbet for your eyelids! the eyeshadow sorbet has a delicate mousse texture in fabulous, fresh spring colors. it is easy to apply and ensures beautiful moments... available in 01 peach beauty, 02 banana joe and 03 one kiwi a day…
Lipbalm
hmmmm, yummy! this lipbalm is available in two fruity flavours and colors to pamper your lips with the delicious taste of spring. available in 01 peach beauty and 02 very cherry.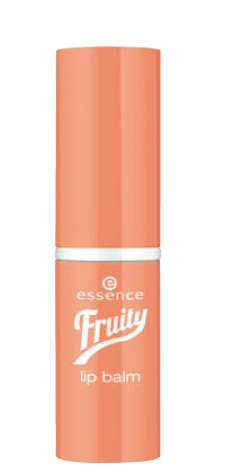 Blush sorbet
a boost of freshness for a gorgeous finish: the blush with a sorbet texture perfectly complements your early summer fruity look with an intense pink-red shade. simply dab the airy and light formula on your cheeks with your fingertips and your natural look is done! available in 01 smoothie operator.
Nail polish
wanted: fruity colors! as colorful and shimmering as springtime – these five good mood colors bring the loveliest season of the year to your nails! an absolute must-have for the fruity spring look. available in 01 banana joe, 02 peach beauty, 03 very cherry, 04 one kiwi a day… and 05 mashed berries.
Scented top coat
strawberry fantastic! the scented top coat is super fruity and gives your nails a seductive fresh strawberry scent. available in – what else -01 smells like strawberry...
Nail art sealing top coat
the crowning glory for fruity nail design! simply apply the nail art sealing top coat after styling your nails for long-lasting results. available in 01 stay fruity.
Nail fruits
cheeky little fruits on your nails – the absolute eye-catcher of the season! you can decorate your nails in a matter of seconds with these trendy designs. super-easy to apply thanks to the included nail glue. the ultimate must-have for all nail fashionistas this spring. available in 01 fruit punch to go.
So what do you think about this collection? I'm interested in a few of the nail polishes.