Essence has a new collection coming out called "Snow White"
Here is what Essence has to say about this collection.
Mirror, mirror on the wall… these words conjure-up wonderful fantasies of enchanted forests, a prince and the greatest love of all… but what was the story behind that famous line again? in collaboration with Disney, the seven dwarfs will not only charm us with their rosy red cheeks and a cheerful song on their lips in June 2012, they'll be delighting true fairytale fashionistas with the new Essence trend edition "snow white" for bright, colorful nail trends! a snow white look and fairytale glam for your nails – the hype of the summer!
Nail polish
when snow white chooses the trendiest colors of the season, you can be sure that things are going to be colorful and playful – bright colors with great coverage conquer your nails and create imaginative styles. the highlight: the nail polish "snow white" comes in a 10 ml bottle and is a little bigger than the "seven dwarfs" to bring the fairytale into your cosmetics bag in true disney style. available in the colors 01 snow white (10ml), 02 grumpy, 03 doc, 04 happy, 05 sneezy, 06 sleepy, 07 bashful and 08 dopey (5ml).
Snow white
Grumpy
Doc
Happy
Sneezy
Sleepy
Bashful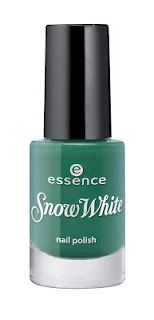 Special effect topper
sigh, what a wonderful happy ending – three magical top coats give your nails an enchanting finish. from mystical to romantic – holo effects and glitter particles conjure fairytale looks onto the tips of your nails. these special effects won't be lost on any princes! available in 01 evil queen, 02 the huntsman and 03 prince charming.
Evil queen
The huntsman
Prince charming
Nail file
for a change, even the evil stepmother is useful for your nails without any wicked ulterior motives. this queenly nail file is super practical when you're on the go and will whip your nails into shape in a flash – magical!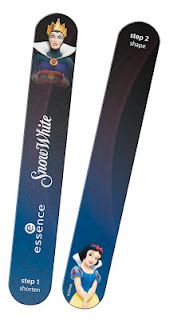 Nail art sticker
So what do you think about this collection? I want the nail stickers, evil queen and the huntsman!!